Defence Raya Golf & Country Club
[vc_empty_space height="320px"]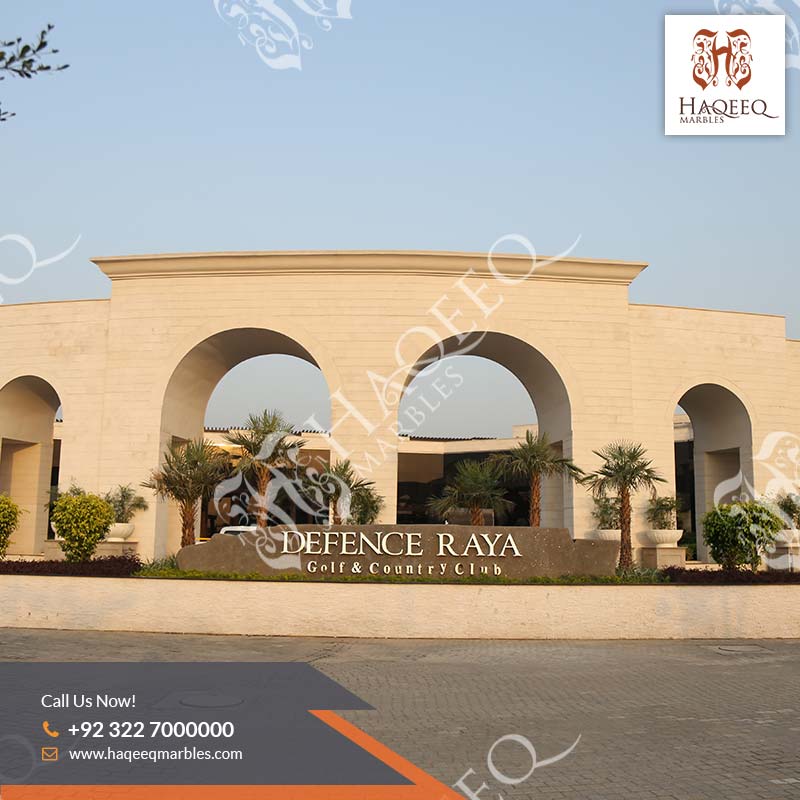 Defence Raya Golf & Country Club
DESCRIPTION
It is a large scale commercial project done by Haqeeq Marbles with professional commitment and excellence. It is situated in Phase VI, DHA-Lahore. It is social recreational place. Visitors daze pleasantly whilst visiting and feeling the royal finishing of marble and granite work.
It is a huge recreational place that has been designed by Pakistan's ICONIC architects Mr. Raees Faheem and Mr. Shahzad Mir, however fabricated and executed by Haqeeq Marbles solely without sharing of any other supplier. We are quite capable of handling mega projects like this. External walls cladding, internal walls cladding, main entrance façade, flooring, serving area, galleries, stairs, landscaping and sprinkling area contains home décor items/ products fabricated by Haqeeq Marbles of Marble and Granite tiles, water jet inlay, mosaic, carving, glass mosaic and CNC carved panels.
This project speaks loud and clear words for our quality products, designs, fabrication, workmanship, machines and commitment towards home décor, general décor, interior, modern décor, modern interior designs, traditional carving, in depth inlay knowledge, variety of marbles and granites, aesthetically rich, architectural mind, construction sense, design aesthetics, understanding with materials, execution skills and in the last but not least meets the timeline.
CLIENT : Defence Raya Golf & Country Club
LOCATION : Phase VI, DHA-Lahore